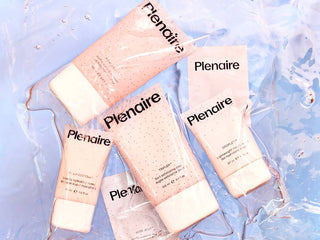 Our partnership with Handle.
On November 1st 2022, Plenaire has partnered with Handle, the recycling company for the beauty industry, to turn empty packaging into something beautiful so that it can be used again and again.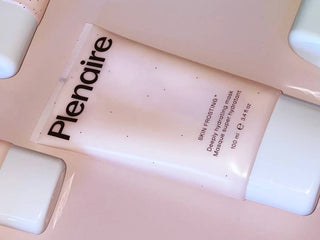 Filled with purpose.
From November 2022 onwards we're asking our wonderful, sustainably minded beauty community to fill purpose-made bags with their empties so we can recycle them properly and give the materials a new lease of life.

With Handle and Plenaire, we are aiming to make recycling both quick, convenient and hassle free.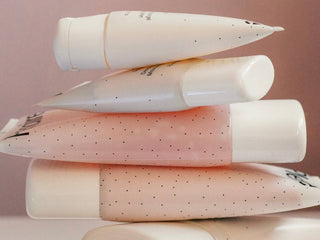 What is welcome?
Handle accepts the following: All types of bottles, tubes, pots, lids and pumps, fragrance bottles, makeup compacts. aluminum packing and tubes, glass pots and bottles, razors (handles only), toothbrushes, eyelash curlers, makeup brushes, hair brushes and sample sachets.

*They do not currently collect electricals, face wipes, sheet masks or aerosols.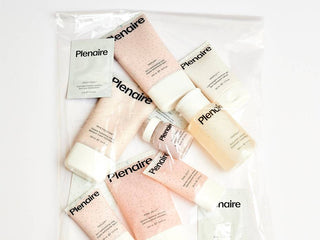 About our packaging.
We have launched Plenaire with fully recyclable packaging. Second, all Plenaire packaging is curbside friendly, making it even easier to recycle with Handle.Our tubes are made up of mono material BPA free Polypropylene (PP) which has a greener profile. Our cartons are fully FSC and PFEC accredited, and biodegradable. Our Violet Paste jar is glass and can be washed and recycled alongside our tubes and cartons.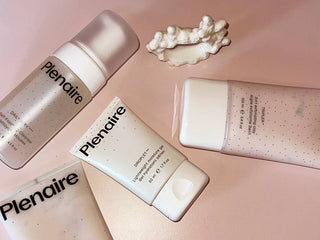 Where will my beauty products end up?
Once collected, the packaging is sorted into the correct waste stream, each material is recycled so it can be re-used by manufacturers of beauty packaging or is turned into Handle beauty accessories which are handmade from 100% recycled plastics.